One my favorite things about road trips, and New Zealand road trips in particular, is the opportunity for spontaneity, the ability to go at your own pace and all of the incredible things you encounter when you deviate from 'the plan' and go with the flow. I learned this on my first trip across the West Coast of the South Island with my parents, discovering hidden gems along the way. And it was even more true this second time around with Joe, Jeff and Ashley.
After spending the night at Lake Tekapo, the next place on our itinerary was Queenstown. With only three and a half hours between Tekapo and Queenstown, we took our time, as well as an unexpected journey (Hobbit reference anyone?) along the way.
We couldn't pass through the MacKenzie Basin without stopping to see the spectacularly blue Lake Pukaki. This glacial lake is backed by Mount Cook - New Zealand's highest peak, and it gets its blue color from glacial flour, extremely finely ground rock particles from the glaciers. There's nothing around Lake Pukaki - no restaurants or attractions. It's just a big beautiful milky blue lake with a very small visitor center (which also happens to serve really fresh raw salmon).
Without a restaurant nearby, we decided it was time to open up the 'Back seat deli', so we pulled over in the Lake Pukaki Visitor Centre parking lot for lunch. There's nothing like enjoying PB&J's out of the trunk of a car with a view like this.
After lunch Jeff and I went wandering along the rocks to sit and snap photos at the water's edge, hoping the clouds would clear so we could get the perfect shot of Mount Cook behind Lake Pukaki. The overcast sky and snowy peaks seemed to blend together into a blob of bright white. Eventually, we gave up and decided to move on, but not before having my 'Gandalf moment'...
OK Gandalf moment complete, but seriously, don't you love when nature gives you a good walking stick?
After sitting on the rocks, water lapping at our feet, Mount Cook staring back at us in the distance, we got to wondering how far the drive it might be. Joe has been dying to see Mount Cook up close since we saw it just barely peeking over the mountains when we stayed at Fox Glacier on our West Coast road trip. We pulled up a map to discover it wasn't too far away. What's another hour or so right? So our itinerary changed from three and a half hours to this...
Mount Cook, here we come!! The drive there was absolutely gorgeous and totally amusing. Between the snow-capped mountains and Joe and Jeff's incredibly inappropriate rendition of the 'Would you rather?' game, we had the makings of a pretty perfect road trip. Around every corner there was an even better view.
We frantically tried to capture it by camera from the window of a moving car with varied levels of success and ended up stopping 3 times on our way there...
Stop one: 'Scenic Lookout'
Joe and I decided to pose like the very awkward Asian couple who had their photo taken in this spot before us. I love people watching along the road.
Stop 2: snow... wait more snow!!
As we approached Mount Cook, the mountains began to creep up on us. We went from dry grassy plains, to hills with spots of snow, and then suddenly we were surrounded by peaks thickly covered in chunks of snow that felt like they might tumble down the side of the mountain and envelop us at any moment. Finally we decided to get out of the car to fully take in the scenery and attempt one of the few group photos of our trip (a cheesy jumping photo at that) which took several tries to master.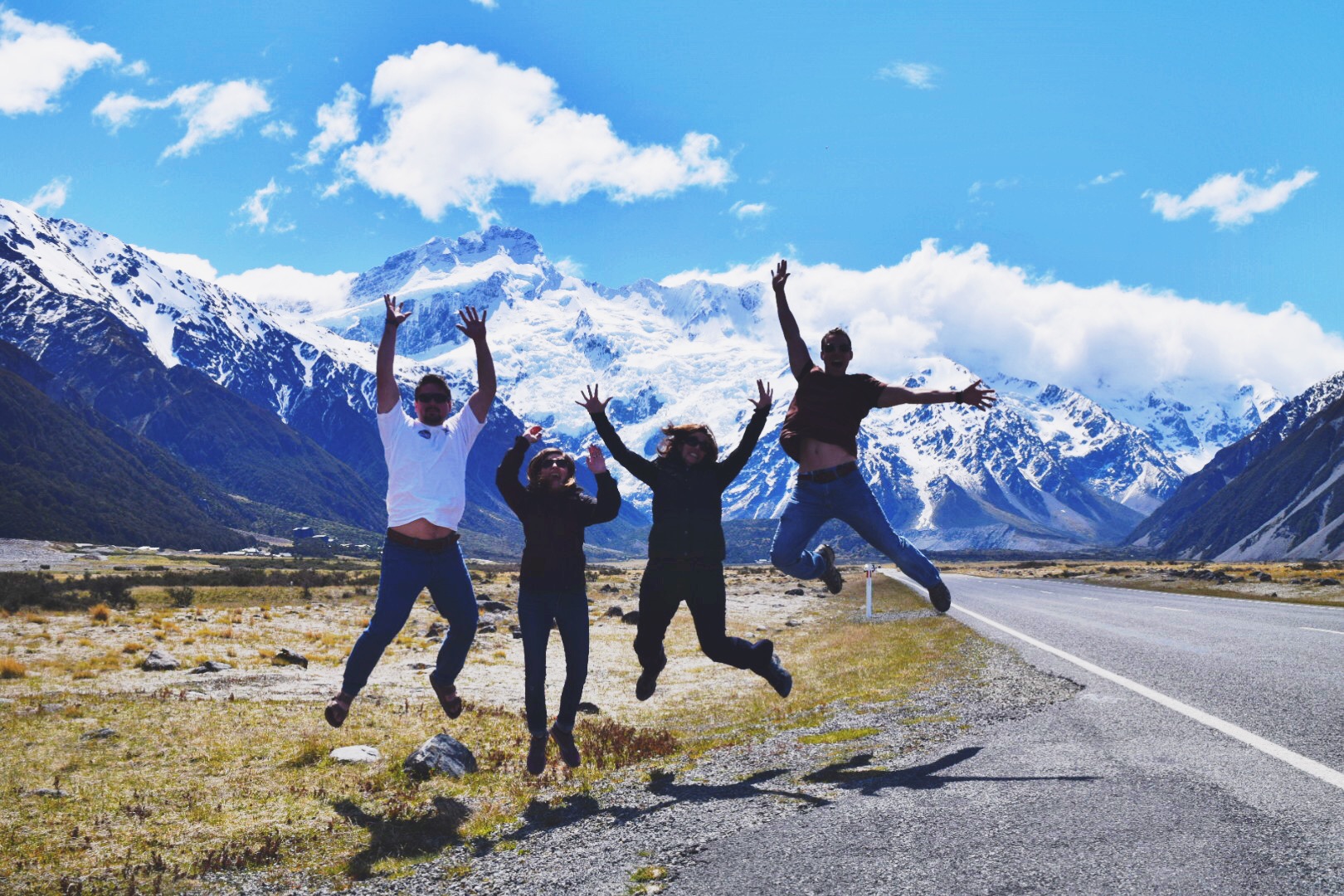 Stop 3: Sir Edmund Hillary Alpine Centre
Sir Edmund Hillary was a New Zealand mountaineer, explorer and philanthropist. He, along with Nepalese Sherpa Tenzing Norgay, was the first climber to reach the summit of Mount Everest, but his mountaineering days began on the slopes of Aoraki Mount Cook here in New Zealand. He can also be found squinting into the sun on New Zealand's five dollar bill.
Just our luck, the clouds cleared to reveal the peak of Mount Cook just as were about to leave the Alpine Centre and get back on the road.
So of course, we had to explore a tiny bit further to get a closer look.
There is a camp site and tons of cool hiking trails that take you to glacial lakes around the base of Mount Cook. And of course, more experienced climbers can hike to the summit of Mount Cook. I didn't realize how dangerous the climb can be. Along our hike, we found a memorial to all of the climbers would had died attempting reach the summit. Ever visited a grave yard and wondered how someone died? Well this memorial literally explains how each person died on individual plaques — avalanche, plane crash, trapped under a rock, hypothermia — the list goes on and on. It's pretty morbid, but really goes to show the incredible power of nature and gives me tremendous respect for the people who have attempted to climb such peaks.
Finally, we made it to the swing bridge. The glaciers were calling, but we had to cut ourselves off from the hike or we wouldn't make it to Queenstown before dark (and you do not want to drive New Zealand at night - lots of curvy roads and zero street lights!)
I stood on the bridge with the snowy peaks towering over me, the wind whipping through my hair and the cold glacial water rushing under me. What an incredibly majestic place. In the valley, I could imagine where a glacier had once been. Next road trip I know to set aside a few days for camping and hiking around Mount Cook. This detour was totally worth it, and turned out to be one of the highlights of our trip!
On our way back past Lake Pukaki, we had to stop for one more photo - this time with clear skies.
Until next time, Mount Cook... now onto Queenstown - the adventure sports capital of the world!
Thanks to Jeff for playing co-photographer and sharing your photos from the trip!