There are few times in my life that I get so excited and smile intensely for so long, that my face starts to hurt. My dad calls it my "dolphin face" (see exhibit A), because he'd never seen me so excited, as the time I swam with dolphins. Riding in a helicopter over a glacier was another one of those times.
My first New Zealand birthday was by far one of the most exciting and memorable birthdays I've had in years. All I can ever really ask for on my birthday is just to have a good day. There is nothing better than feeling alive! Well this year exceeded my expectations. Joe's birthday falls the day after mine, so when planning the trip, I wanted to make sure we ended up somewhere super cool to celebrate our birthdays – not a difficult feat in New Zealand.
Fox Glacier, here we come!
Nestled in New Zealand's South Island Southern Alps are some of the most accessible glaciers in the world, with Fox being the longest of the glaciers. Fox Glacier is currently in a retreating phase, so in order to reach the part of the glacier where the spectacular ice caves are formed, you must travel by helicopter. No complaints here! Sign me up for a Helihike with Fox Glacier Guiding! What a privilege to visit a natural wonder that might not be around long enough for my future children to see. (It made me happy to know that a portion of our trip went to the Department of Conservation to maintain the glacier environment.)
Rain and wind threatened our helihike, but in a last minute call, our guides determined we'd be safe to fly, and we would return to town if conditions worsened. So Joe, my parents, and I suited up in our waterproof gear, gloves, and hats, listened to a quick briefing from the trained staff, and boarded the helicopter to meet our Sherpa on the glacier.
I know the helicopter is just a means of transport to the glacier, but for me, it was equally as exhilarating as hiking the glacier. We ascended into the clouds, soaring over massive ice structures, swerving past mountains, hovering next to massive waterfalls, and circling the glacier below.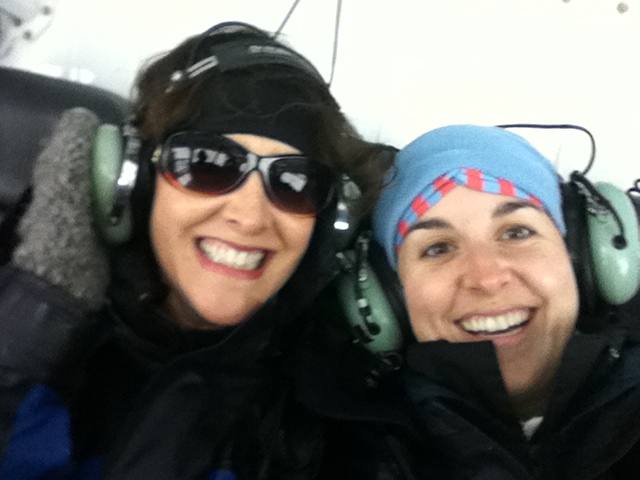 It wasn't until we saw the tiny specks of people and helicopters below that we realized the magnificent size of the ice formations.
Our helicopter was filled with shouts of "Woooo hooo!" and "this is awesome!!" through our muffled ears. Our pilot even gave us an extra "birthday" loop around the glacier before landing.
On the glacier, we met Passang, our Nepalese Sherpa. You could tell that mountaineering is in his blood, and his father had even climbed Everest! Throughout the hike, he was so incredibly kind and patient, and constantly had a smile on his face. We knew we were in good hands.
Still, the black barrels of extra supplies (in case we got trapped on the glacier), reminded me that anything can happen, and this definitely was not the place to wander off on your own to take pictures! Nice to know that the Fox Glacier Guides had come prepared for us.
We strapped crampons to our boots and gathered our walking sticks to gain balance on the incredibly slippery surface. It was definitely a new sensation to adjust to.
What struck me the most was the color of the ice – an incredible blue color that is the result of light passing through ice compacted over millions of years.

We climbed down into ice caves where melted ice created streams of water at our feet. Standing inside the tunnel and looking up to the sky, you could see the magnificent, smooth, and wavy formations of melted ice towering overhead – a beautiful example of art in nature. Looking up was almost disorienting.
Along the hike, we found beautiful fragments of granite (yes, I resisted the urge to take a piece home to use as a cheese board). There were holes in the ground that went straight down for many feet below us, where ice was beginning to melt. One wrong step and you could have a really cold problem on your hands!
After several hours of hiking (and an embarrassing rendition of the Happy Birthday song), we awaited the arrival of our return helicopter. The helicopter is so forceful when it lands, that you literally have to kneel on the ice to keep from being pushed over by the wind. We had such an incredible time on the glacier. It was truly an experience I will cherish forever, and an absolute must-do when visiting New Zealand.
Once we were back on the ground, the exhaustion finally hit us. It was definitely time for some beer and chips! We hung at a local pub drinking and still gushing about what a cool experience we'd just had. Then we headed back to our hotel to get some rest before another exciting day on the road.
The charming little town of Fox Glacier is set on a beautiful backdrop of Aoraki/Mount Cook and Mount Tasman (on a clear day). And we were lucky enough to catch a glimpse of the peaks during our hike around Lake Matheson the following day, when the sun decided to finally show its face. We awoke and headed to the lake for a quick hike, but not before getting stuck in a bit of morning traffic – New Zealand cow traffic that is. Suddenly a huge herd of cattle were approaching us! So we shut off the car and waited for them to pass. I love moments like this!
The hike around Lake Matheson was lush with scenery. We walked through the bush before finally emerging on a dock that faced the mountains. Tourists gathered, hoping to snap an iconic photo of the peaks reflecting on the still surface of the water.
We relaxed on the dock for a while, admiring the view and catching a few glimpses of the peaks through the clouds before heading to our next destination: Punakaiki here we come!