"Now I don't know, I don't know, I don't know where I'm gonna go when the volcano blows." – Jimmy Buffett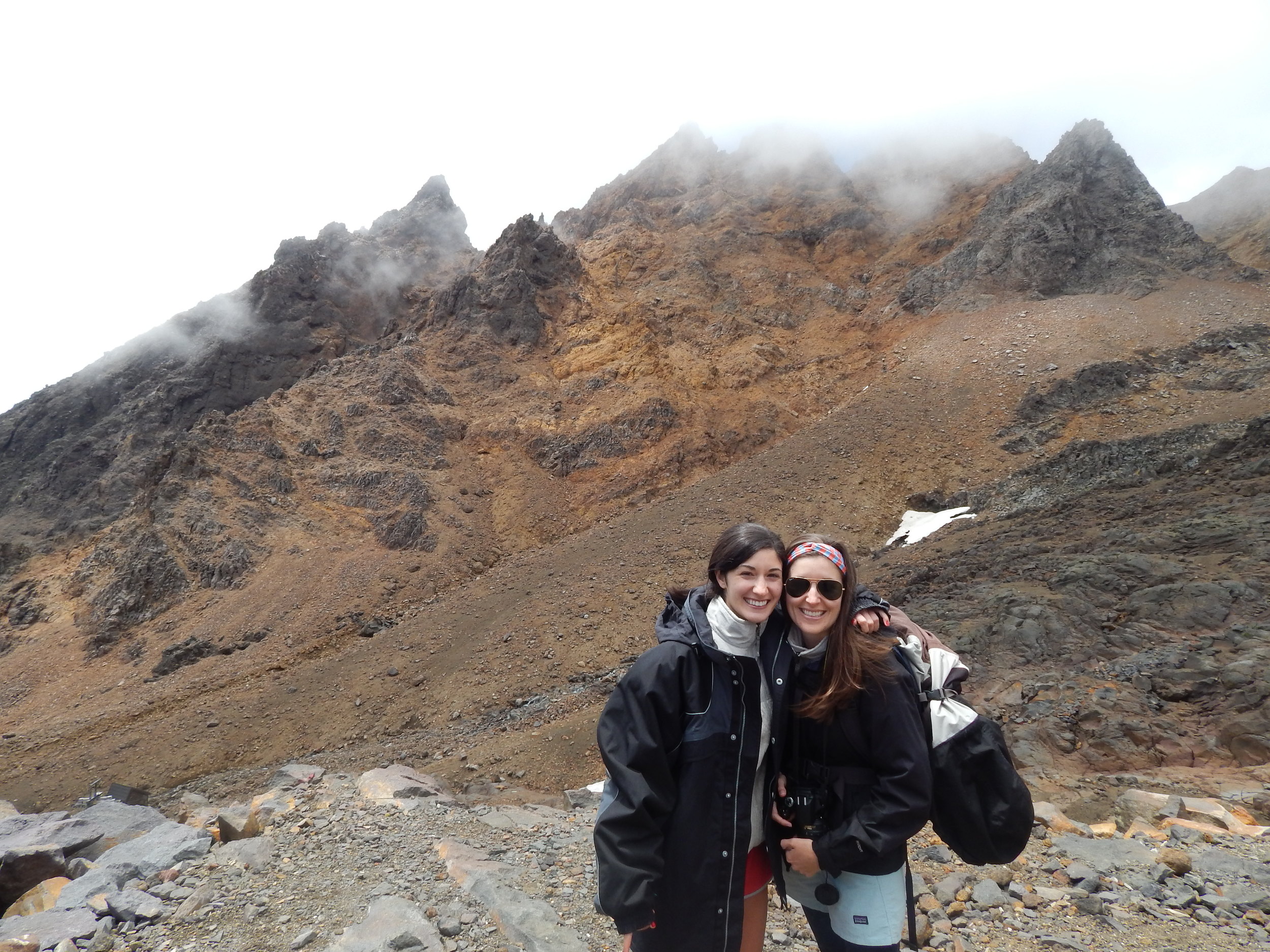 For my little sister's last full day in New Zealand before returning to school back in the states, she wanted to do something AWESOME and adventurous. No problem. We should be able to find something within a 3-hour radius. We should probably go to a volcano, right? Make that Mt. Raupehu, the largest active volcano in New Zealand, which last erupted in November 2012. Mount Doom! (For all of you Lord of Rings fans out there.)
Back seat deli is back in business. We loaded up the car with snacks and hit the road to Mt. Ruapehu in Tongariro National Park, which turns into a ski resort in the winter. Even on this warm summer day, we could see the snowy mountain peak emerging from the top of the clouds as we approached the park. We hopped on the ski lifts and soared over the black molten rocks below. You could feel the temperature drop and the air get thinner, making it harder to breathe.
We were 2020 meters above sea level when we began our climb up the Skyline Walk.
Wooden posts marked the way to the top. And there were tiny waterfalls running here and there from the melting snow.
We dug our shoes into the red-black rock hoping to make our way above the clouds to the snowy peak. But as time went by the clouds only thickened. It was honestly how I would imagine Mars to be (if Mars were cold). There were red rocks everywhere. The clouds were so thick, you could hardly see in front of you. They swallowed up every little sound, so it was very quiet. It gave me an eerie feeling that we were stranded, even though I knew perfectly well that we were not. The clouds were disorienting. We couldn't tell how high up we were or how much further up we could go.
Finally we reached what appeared to be as high as we could safely climb. We scrambled up the peak to find a small frozen pond below and a very steep drop to get there.
At that point, Joe thought it would be a good idea to toss one of the lava rocks from the top of the peak. Not so much. Soon Gabrielle and I were both shouting in our whiniest voices, "Joe! Stop! Seriously, you're scaring us!" as we heard one pebble trigger the next and the next, and suddenly a whole heap of rocks were snowballing their way down the peak, avalanche-style. Probably much more dramatic sounding than it actually was, but the echoing sound of rocks tumbling down the peak to the frozen pond, felt all too much like a scene from one of those suspenseful adventure films where people get stranded in the wilderness. Boys will be boys.
On the peak, the lava rocks had been heated up and frozen so many times that they fragmented and came apart. They were lined up like books on a shelf and you could literally pull them right out of the mountain – scary if you're looking to get a firm grip on something.
As the clouds continued to thicken we decided it was time to head back down, but not before carving our names in the frozen snow and shouting into the abyss, only to hear it echoed back to us. Due to a bit of exhaustion, Gabrielle and I each had our share of slips down the lava gravel, as we made the steep descent back to 2020m. At one point, it was so steep that I found myself scooting down the mountain on my butt.
Gabrielle even got a slight injury to her ankle during one of her falls, but how cool is it to say "oh yea, I cut myself on a volcano" ? She can add that to her list with "I was bitten by a sting ray." True story. Although the mountain top did not provide the clear view I had hoped for, being 2500 meters above sea level at the top of that peak was an awesome experience and definitely one that got my adrenaline going. This was our last adventure as a little threesome team, and I'm so glad we got to share it with Gabrielle.
Joe and I plan to return to Mt. Ruapehu on a clear day to do the Tongariro Crossing and hopefully get some better views, so stay tuned!